There are many different ways to make some extra money online. One of the most popular is affiliate marketing. For affiliate marketing to work, conversion is very important. For that reason, you have to engage your visitors to purchase goods and services through affiliate links.
When you track your marketing progress, you get important insight into marketing trends and user behaviors. With an affiliate tracking platform, you can easily plan strategies that will work for you.
But what is the best tracking software for affiliate marketing?
We have prepared this post to help you figure out which is the best affiliate tracking software. Read on for detailed reviews of 11 software you should know about.
Best Affiliate Tracking Tools
Let's start with detailed reviews of the top ad-tracking software. But first, here is a comparison table for a quick overview.


You will appreciate Voluum because of its reliability and speed – two things that can be hard to find in affiliate tracking tools. This tool will keep you up-to-date with the important campaign metrics straight from the dashboard.
But that's not all you will love. It is very easy to navigate and will give you important data to help improve your affiliate marketing.
What's more, it supports more than 50 platforms, which makes it easier for you to manage different campaigns. The information you get includes organic traffic and ad impressions.
Your landing page will also be scanned to help correct any errors. Get accurate reports regarding your affiliate results with the help of Voluum.
So, anyone struggling with campaigns should rely on Voluum to help fine-tune settings that will help you get the best out of affiliate links. Enjoy up-to-date data coupled with trends that will help you strategize for your campaign.
With the help of Voluum, you will be able to get rid of any suspicious traffic so that your affiliate campaign can be authentic. Easily detect any bots and block them.
As for the pricing, you can enjoy three different plans. The Discover plan – for $89 monthly – will retain 3 months' worth of data and support 40 campaigns. The profit plan – for $149 monthly – features 6 months of data, automation, and AI support. Finally, the scale plan – for $299 monthly – features a year's worth of data coupled with automation, AI support, chat support, as well as an Anti-fraud kit.
Pros
Support for more than 40 different platforms
Among the more affordable options
The interface is easy to use and understand
In-depth data analysis
Cons
The cost might be too high for beginners
---


Redtrack.io is among the best affiliate tracking tools. The software will allow you to manage affiliate marketing and track affiliate relationships, and their performance, and also allows you to communicate easily.
This affiliate manager is very important because it will help you to manage affiliates with ease and also communicate with affiliates regarding the failures or successes of campaigns.
We loved that the tool gives you a free trial so you know what you are getting into before dedicating your money to it.
There are amazing benefits related to redtrack.io. First, you will be able to set it up with ease, which means that you will easily get started regardless of the technical knowledge. Additionally, you will get flexibility in that you can choose the campaigns or specific goals to focus on.
Finally, the tool allows affiliates to easily recommend specific products that they know will have higher success levels.
There are two pricing plans to choose from. You can choose the first plan for $83 monthly, or the second plan, which will cost you $624 monthly.
Pros
Easy to get started and use
Offers flexibility
Affiliates can recommend specific products that will be successful
A free trial so you know what you are getting into
Cons
It is a pricier option
The interface might have certain bugs now and then.
---


This is a link tracker to help you optimize the links, as well as ads, within your marketing campaigns. It emphasizes compatibility. Enjoy tracking sales funnels, tracking on different devices, as well as optimizing ad performance.
We loved that the tool has useful functionality. For example, you will be able to perform split testing and monitor real-time analytics.
With the help of Clickmagick segmenting click, you will easily run better campaigns. So, who is this tool for? Well, if you are a blogger who's looking to assess traffic sources quality, an affiliate marketer, a marketing agency, or even an individual working on SEO marketing, email marketing, CRM marketing, or content marketing, this is a great choice for you.
If you are not sure about Clickmagick, you can test the platform for 14 days, and then decide whether to pay for its service. A monthly license will cost between $27 and $97. If you choose to pay annually, you can pay between $257 and $897.
Pros
Easy to navigate
Advanced filtering
Helpful support
Data-rick segmentation and reports
Powerful automation
Cons
The free trial requires bank card details
Not all pricing options are displayed on the pricing page
High learning curve because of functionality depth.
---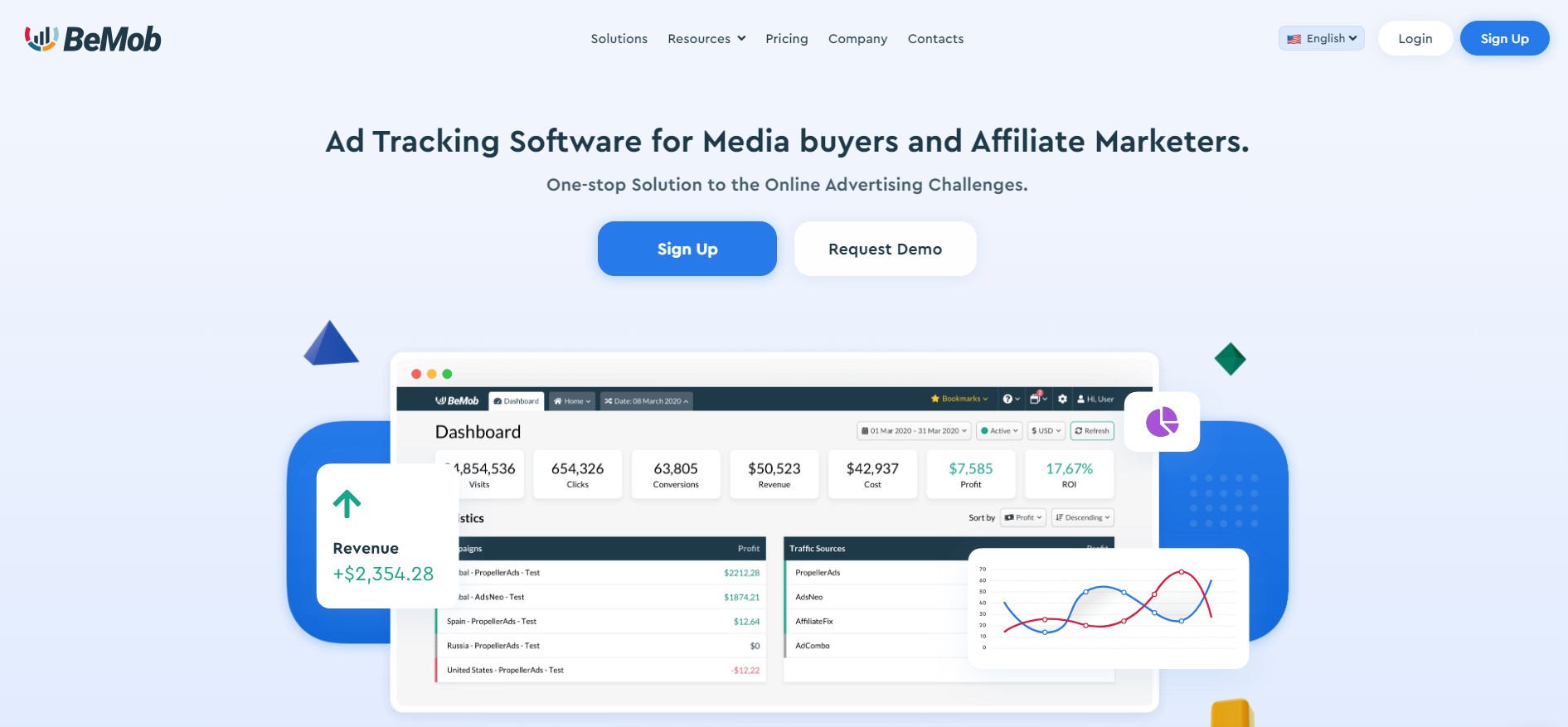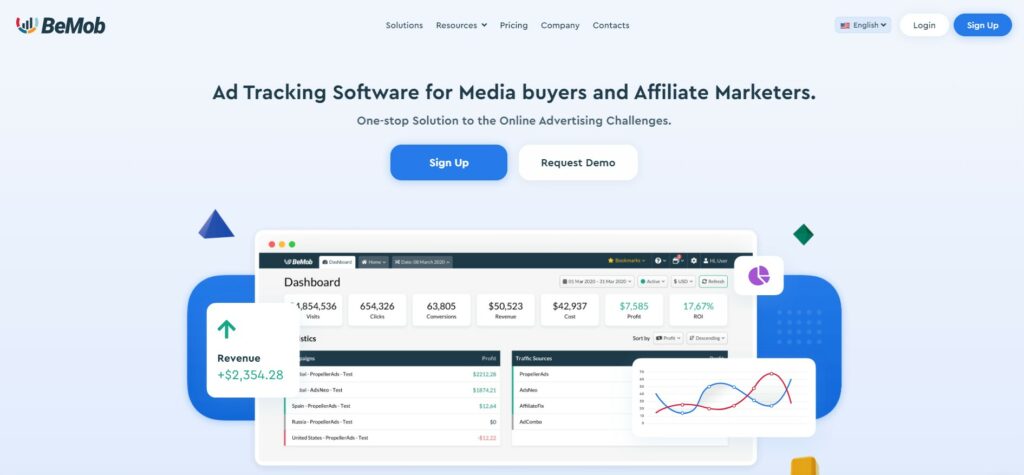 This affiliate tracking platform will provide you with the tools you need to track your ad campaign, as well as optimize your marketing efforts. Several features make this tool functional, including fraud detection, campaign management, conversion monitoring, as well as traffic source tracking.
But that's not all. This platform will provide you with data such as affiliate commissions, conversion rates, as well as click-through rates.
Thanks to this data, you will be able to figure out the campaign that is functioning well and the ones that require improvement.
This platform will give you the necessary tools for successful marketing campaigns.
This ad tracker for media buyers has four pricing plans. Choose between free, professional, business, and professional plans. The professional starts at $49 monthly, the business plan will cost $249 monthly, and the enterprise plan costs $499 monthly.
Pros
Free start plan
Responsive support
User-friendly interface
Comprehensive tracking
Additional features that do not require a change of the pricing plan.
Cons
Average click-loss level
Insufficient tutorial videos
Lack of Facebook, Bing, Google Ads, and more API integration.
---
Binom tracker is among the best affiliate tracking tools. The solution gives you a range of amazing features such as conversion tracking, traffic analysis, real-time tracking, and more.
It features speedy update releases, with an amazingly fast response from the support. This is among the few programs that allow you to request a feature and it will be added to the roadmap. We loved that this program has amazing customer service.
There are several advantages associated with the Binom tracker, such as the accuracy and detailed reports, different tracking methods, as well as ease of use.
Pros
Different tracking methods to choose from
Easy to set up
User-friendly
Accurate and detailed reports
Cons
Some technical skills are required for setting up the advanced tracking methods
Can overwhelm a beginner
You have to pay to get access to a certain feature.
---


Funnelflux is also a tracker software that helps an affiliate build landers even without coding knowledge. You can choose from different landing templates. But the features do not end there. You will get simple landing offers, advanced routing, cross-sell lander, up-sell lander, and more.
In a matter of seconds, you will be able to turn data generated into actionable intel with the help of its reporting engine.
Choose between three pricing options. The self-hosted plan will cost $99 monthly, the funnelflux pro costs $99 too, while the lander hosting costs $49 monthly.
Pros
Quick data generation
It is an affordable option
More than 100 templates
Responsive support
Unlimited data retention
Cons
It can be overwhelming to a beginner.
---


Hyros is owned by Alex Becker. The ad-tracking platform is meant to help media buyers to get better intelligence on ad-spend to help with optimization decisions for your ad campaigns.
Here's why you need Hyros. The platform will give you accurate conversion on ad-spend to help you make better decisions. You can also track ad-spend across YouTube ads, email marketing, Google Ads, and much more.
As for the pricing, you can create a unique pricing plan for your specific company. However, to do that, you have to book a call with the Hyros team.
Pros
Chrome extension included
Great support from the knowledgeable staff
Good choice for advertisers that spend more than $10k a month
Easy to use
Cons
No transparent pricing
To use Hyros, you will have to book a call
Not for small advertisers.
---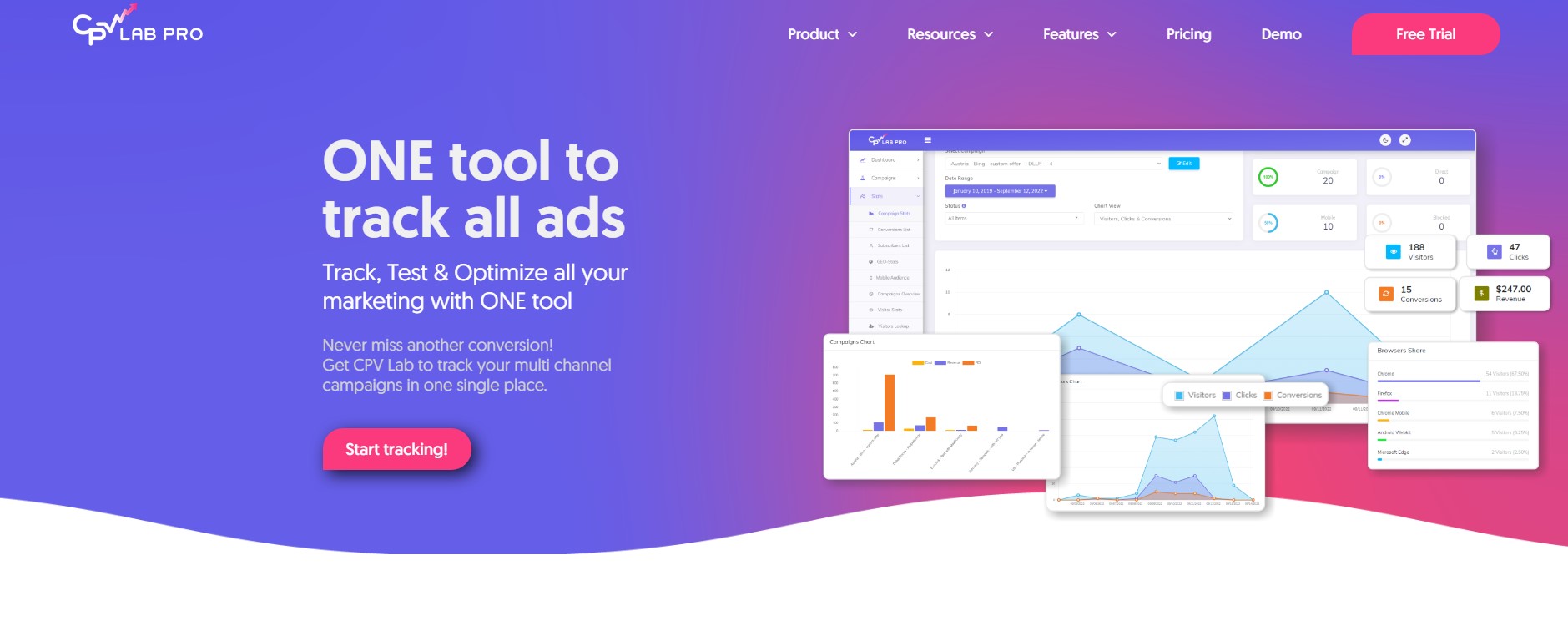 Choose CPV lab pro to optimize, track, and automate market advertising. Any affiliate marketer, whether you have experience in the field or you have just started, this tool will work for you.
Anyone running different campaigns on Google Ads, Tiktok, Facebook, Youtube, or other platforms, then this is a great choice. The tool will help you to track and optimize your marketing campaigns from one place.
As for the cost, there is a free trial for 14 days coupled with a 30-day money-back guarantee. The starting price is $33 monthly, but there is no free version included.
Pros
Affordable option
Money-back guarantee
A great choice for beginners
Amazing features included
Cons
No free version included.
---


Kintura is a great choice for affiliate trafficking of performances. The tool makes use of AI and machine learning to help you manage marketing campaigns while reducing the cost of digital advertising holes. This is truly exceptional, thanks to the amazing AI.
Kintura aims to give affiliate marketers an environment that allows for smart work and reduction of hard work pressure.
Enjoy a wide range of features from Kintura, which includes virtual piling, budget monitoring, amazing AI, multiple users, as well as a harmonious redirect.
There are three pricing plans included, including a free version, the basic plan for $199 a month, the agency plan for $499 a month, and the enterprise option for $999 a month.
Pros
Robust servicing
Affordable software
The protection provided on your landing page
Fraud detectors included
Cons
---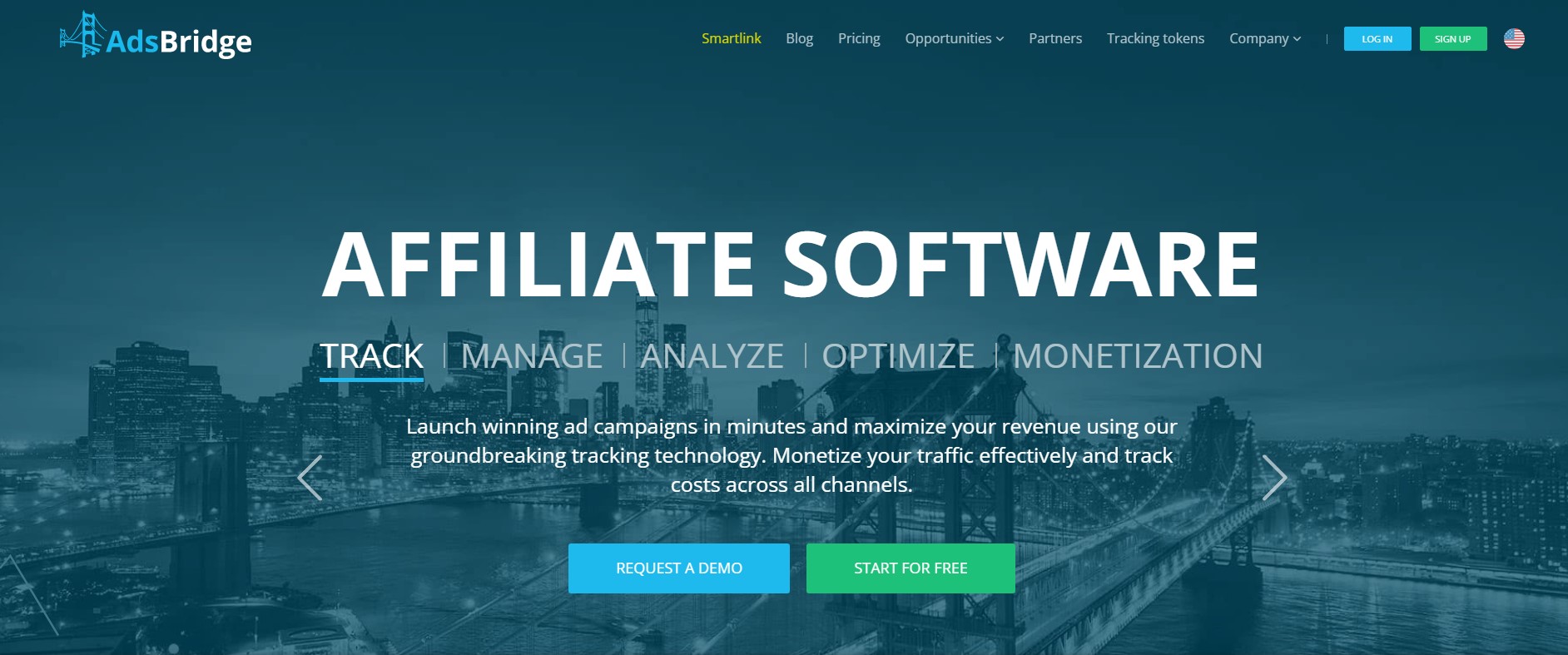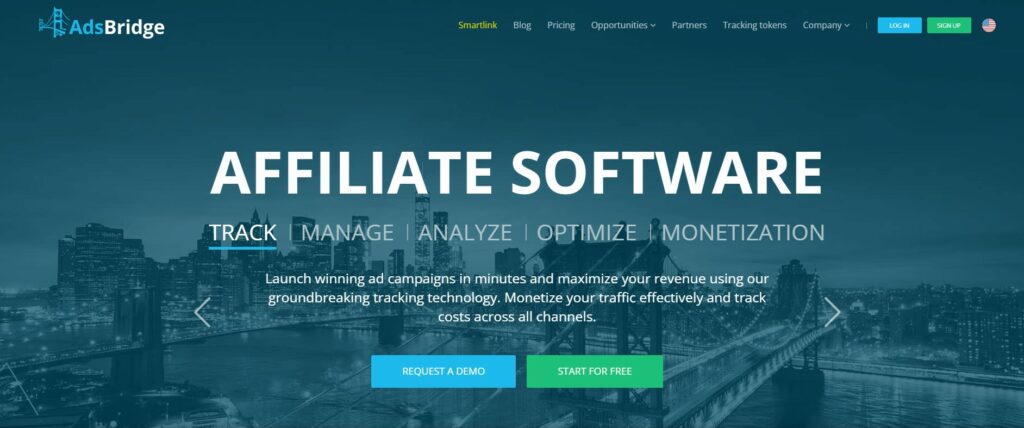 This is a great choice for any online business. The platform features amazing tools that eradicate any limitations. With Adsbridge, you will easily increase the profit generated from marketing campaigns.
The reason why this platform is part of our post is the amazing collection of features included coupled with automation tools that make everything easier for you.
Some of the features include accurate TTDS, fraud-guard, amazing support, multiple-user access, and more.
Even though this is not among the cheapest options, you will get amazing quality worth your money. You will get a range of options from Adsbridge from $29 to $799 depending on the number of visits you get.
Pros
A range of pricing plans
Great customer support
Easy to set up and get started
A wide range of features to help you make good decisions
Cons
It is not the most affordable option available.
---


Peerclick is among the most appreciated trackers out there. The platform allows you to collect data and analyze your ad campaigns with ease.
What do you get from peerclick? Well, the cloud-based service saves you time and money. It is also fast, which is an added advantage. Peerclick also allows you to set up different campaigns with ease. But that's not all. Smart rotation also allows you to optimize traffic distribution.
Detailed reports are important. That is why Peerclick offers you more than 40 different parameters about the visits, clicks, and conversions.
As for the pricing plans, there are four options available. The first is free, the basic option charges $70, the advanced plan – for experienced users requires $175 and the exclusive option requires $455.
Pros
Detailed data for easier decision-making
Easy to use and set up
It is among the affordable options available
Provision for multiple users
Cons
Can be a bit challenging for beginners.
Conclusion
Now, different platforms will help you keep track of your ad campaigns. Before you choose any, you have to consider what it has to offer you. This post includes some of the top options available.