This post may contain affiliate links for products I mention. If you click a link and buy something we may receive some compensation. This does not change the price you would pay. In addition, as an Amazon Associate I earn from qualifying purchases. Learn more
---
Staying clean and keeping your house clean is very important. The truth is, the market is filled with a lot of products that help in maintaining cleanliness. The problem is, that the many alternatives make it harder for us to choose one that works best.
Among the top brands, you will find Cleancult and Blueland. These are among the brands that make high-quality products for all households. Do you know the difference between Blueland vs. Cleancult? Even though they might seem a bit similar, they are different in certain aspects.
In this post, we will evaluate each specific product. We will then go deeper into their differences and figure out how best to choose among them. Let's dive right in.
Individual Review of Each
Before we go any further, we would like to review each of them individually.
Cleancult Cleaning Solution – Quick Review

Cleancult makes things much easier compared to most brands in the market. You can even notice that on their website, which is not only easy to navigate but use too.
As for their products, they have certain ingredients that are more plastic. The brand states that they are recyclable, but your recycler should have more information on whether they are or not.
The brand features exceptional packaging, but not the best if we are being honest. But the packaging does not have any effect on the cleaning product inside. The products are functional, with the all-purpose being the best of their line or products. A problem came up with one of their products, the lemon-scented bars, which had a bit of extreme chemical smell, which is a red light for most people.
Regardless, the brand produces amazing products that should be highly considered for cleaning.
Pros
The bottles are glass, and very sturdy
The simple process of choosing and ordering products
More options of color and scent
Great suites and bundles premade
Bottles are made to be durable.
Cons
Some products are thicker
The lemon-scented bars have a chemical smell
Aesthetically, it's not the best option.
Blueland Cleaning Solution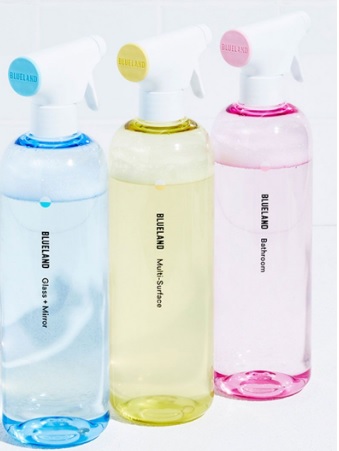 Blueland has amazing packaging – even better than Cleancult. That is true for each of their unique products. We also appreciated that the bottles are reusable.
The product will dissolve in water after around 30 minutes (You have to put it in some warm water. The resulting solution is lighter compared to other brands, but that does not affect how effective it is. It works great for multiple surfaces.
After cleaning, no streaks are left, even if you use them in excess. What's more, the brand will offer you some hand soap with a bottle meant for it.
Unlike other soaps in the market, this one is not harsh. However, the level of effectiveness of the soap varies from person to person.
Even so, the brand is among the best, offering amazing quality products. That is one of the things that we highly appreciated. It also has a modern appearance with good branding. It would be a great idea for you to use an entire kit from Blueland.
Even though there is a lot of good about the brand, there are also certain things that we did not appreciate. Here are some advantages and disadvantages associated with the brand.
Pros
Non-toxic and biodegradable
A wider range of options
The modern look of products with great branding
Products are very effective in cleaning
More starting kits
Cons
The hand soap is not as effective as you would like
After a time, the cleaning solutions might lose effectiveness
Bottle handles are not very sturdy
A Detailed Comparison Table
In this section, we will dig deeper into the Cleancult vs. Blueland difference. We will start with a simple table that gives a better view of how these two differ from each other.
| | | |
| --- | --- | --- |
| | Blueland | Cleancult |
| Potency | Not as good as Cleancult | Might be somewhat thicker, but will dissolve stains and messes well |
| Setup | You use ampules that dissolve in water | Simply refill your bottle and you are good to go |
| Scent | Some have amazing scents, and some are a bit harsh | Products have strong scents |
| Price | Reasonably Priced | Reasonably Priced |
| Daily Use | You can use it daily for cleaning | Perfect for daily use without being harsh on surfaces |
When you consider the table, you will see that these two have a lot in common. They might indeed have different compilation methods, but as far as their ability to clean and potency are concerned, they are somewhat similar.
It might be harder to decide on this. Your personal preference might be the main aspect to consider here.
Blueland vs. Cleancult – Which one to choose?
When making your choice, you have to consider the option that you will use longer. That could be based on its price, or simply the appeal of the bottles. Whichever the case, these are great products that outrank most of the brands in the market.
Additionally, they will both save you money in the end.
Scents
Even though Blueland's products do not have an excessively strong scent, they have an artificial touch. The products that do not have scents are dish soaps, dishwasher tabs, as well as glass cleaners. You can choose different scents for the hand soap.
On the other, hand, Cleancult has products scented using essential oils. That means most of what you clean will have a natural and fresh scent. The only product that does not have any fragrance is laundry soap. Anything else from Cleancult has a fragrance.
Shipping and Prices
Overall, Blueland's cost is lower. The first bottle you start will be reasonably priced and the refill tablet will cost around $2 or lower. The refill's cost might be based on the number you purchase at a time. When it comes to shipping, however, Blueland will only ship to the US. It is also free for any order above $35.
Cleancult, however, ships in the US and territories around the US. Your first order is shipped free and is carbon neutral. If it is not the first time, free shipping is offered for orders above $70. Refills for Cleancult are around $7.
Ordering Cleancult and Blueland
You can find Cleancult products on Amazon. The cost is, however, lower when you order from the official Cleancult website.
Blueland's products are not on Amazon, but you can order from their website directly.
Packaging and refilling
Both brands use plastic-free and recyclable packaging.
Refills from Cleancult are shipped in water and not concentrated tablets as Blueland does. The refills are in milk cartons with some plastic. These might not be recyclable in certain areas.
Blueland, on the other hand, uses refill tablets, which are delivered in paper wrappers. These wrappers are recyclable and compostable.
Comparing Specific Products
Now, let's take a look at a comparison of some of their popular types of products.
Cleaning Sprays
Blueland's bathroom and all-purpose cleaners are great for simple maintenance cleaning. However, when it comes to the heavier filth, they are not as ideal.
As for Cleancult, on the other hand, the all-purpose cleaner is heavy-duty and can eradicate even the heavier gunk. Additionally, you have a natural smell that you will appreciate.
Dish Soaps
Cleancult's dish soap is a bit thinner than it normally was. Using it is much easier than it was with the thicker option. Additionally, there are new scents and the refill sizes are increased for a lower cost.
As for Blueland, however, the powder has become finer and it easily escapes each time you pour it. The container, however, is made using silicone, and destroying it is almost impossible.
Dishwasher Tabs
These two are perfect when it comes to this specific type of product. It is impossible to tell the difference between the two when you check the results.
Regardless, there is a difference in the fragrance. Cleancult has a lemongrass scent, while Blueland does not have any.
For this product, you can choose whichever you think would work for you.
Hand Soap
The soap from Cleancult is in form of a gel. It lathers better. Blueland, however, has a dehydrated tablet, which is produced as a foam.
You only need a bit of Blueland to get your hands completely clean. Additionally, the refill is very cheap at $2. It also has an amazing glass bottle. At the same time, Blueland offers you a wider variety of scents. Cleancult, on the other hand, only has less than five. You will also get more affordable refills with Cleancult.
FAQs
Is Cleancult environmentally friendly?
Cleancult is an environmentally friendly cleaning company. All of their products are made from natural ingredients and they use sustainable packaging.
They also have a commitment to zero waste, meaning that they recycle or compost all of their products and packaging. Cleancult is a great choice for people who want to reduce their impact on the environment.
Where is Cleancult manufactured?
Cleancult is manufactured in the United States. Cleancult products are made with natural ingredients and are safe for the environment.
Also, Read:
In Conclusion
You must choose your cleaning solution carefully. The choice you make will determine how clean your house will be. With these two, you will find different advantages and disadvantages.
Overall, however, they have more advantages and few disadvantages. You should consider the choice you think would work best for you based on our reviews.