This post may contain affiliate links for products I mention. If you click a link and buy something we may receive some compensation. This does not change the price you would pay. In addition, as an Amazon Associate I earn from qualifying purchases. Learn more
---
Griddles and grills are among the most versatile and effective cooking equipment we can have at home.
Imagine being able to cook almost any type of food you would like, whether pancakes, bacon, and eggs for breakfast, hot dogs and burgers for lunch, or even some steak or seafood for dinner. You can cook almost everything.
However, the quality of the griddle you have will highly depend on your attitude towards them.
That is why it is important to consider your options properly before you can make a choice. So, which griddle should you purchase? Which brand should you consider?
Today, we will be considering two of the most popular brands – Char-Griller and Blackstone.
In the post, we provide a detailed review and comparison of the Char-Griller griddle vs. the Blackstone griddle. At the end of the post, making a choice will be much easier for you. Here we go!
Understanding Griddles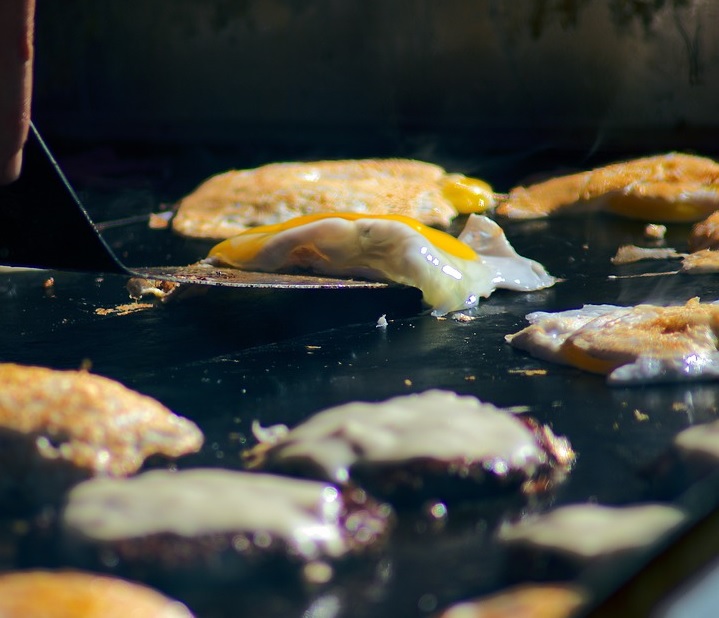 Before diving into the comparison, let's take a quick look at what griddles are.
Well, a griddle is a piece of cooking equipment that makes it possible for you to cook a wide variety of foods. It is extremely versatile, which is one reason why everyone loves a griddle.
A griddle features a flat surface on where you cook your food on. This nonstick surface features some holes through which fat siphons when you are cooking.
Mostly, griddles will help your grill your food faster without the need for charcoal or smoking. That is why they become the perfect choice for sausages, pancakes, eggs, as well as bacon – whatever you would like.
Some of their unique features include a rectangular area for cooking more food compared to a round pan.
Additionally, different heating areas have different temperature levels so that you can move the food you are cooking to different temperature areas. Sounds interesting, right?
Different types of griddles have different features, as you will see.
Comparing Char-Griller Griddle vs. Blackstone Griddle
In this section, we will take a detailed look at the char griller flat iron vs. Blackstone comparison. But first, here is a simplified table that will give you a quick look at how these two differ.
| | | |
| --- | --- | --- |
| Char-Griller Griddle vs. Blackstone Griddle | Blackstone Original 36" | Char-Griller Flat Iron |
| BTU | 60,000 | 60,000 |
| Cooking Area | 720 square inches | 775 square inches |
| Griddle Material | Cast iron | Cast iron |
| Burner Numbers | 4 | 4 |
| Side Tables | Yes | Yes |
| Fuel | LP Gas | LP Gas |
| Grease Management | Rear | Front |
| Built-in Ignition | Yes | Yes |
| Weight | 123 lbs. | 145 lbs. |
| Dimensions | 68.3 by 27.5 by 41.3 in. | 63 by 25 by 38 in. |
| Price | $599.00 | $399.99 |
| Warranty | One-Year Limited Warranty | One-Year Limited Warranty |
Brand History
Blackstone is among the newer brand names that are mainly about griddles. However, Char-Griller has been around for a long time. The brand has focused on smokers, grills, and more.
While Char-Griller started operations in 1994, Blackstone started in 2008. Char-Griller, which is based in Atlanta, has grown to become among the best brands for charcoal and gas smokers and grills. The best product is the charcoal grill with a barrel style.
Regardless, you will find a very wide range of products offered by the brand including griddles, kamados, and grills with dual fuel.
Even though Blackstone is younger, it is a brand that boasts superb griddles with amazing designs. You will get a range of griddle sizes to choose from. You should also know that Blackstone is focused on producing the most efficient and functional griddles for you.
Design of Griddle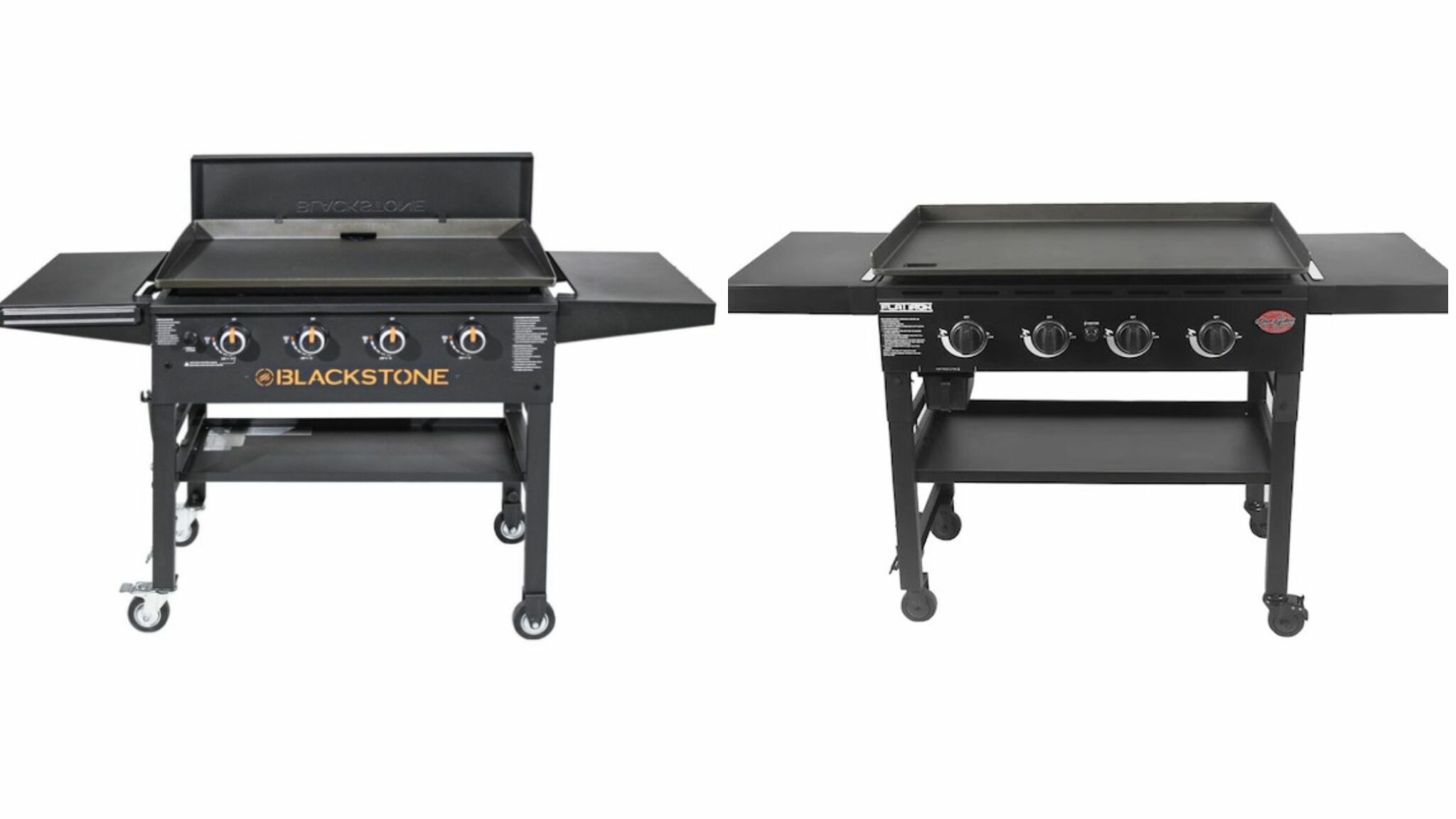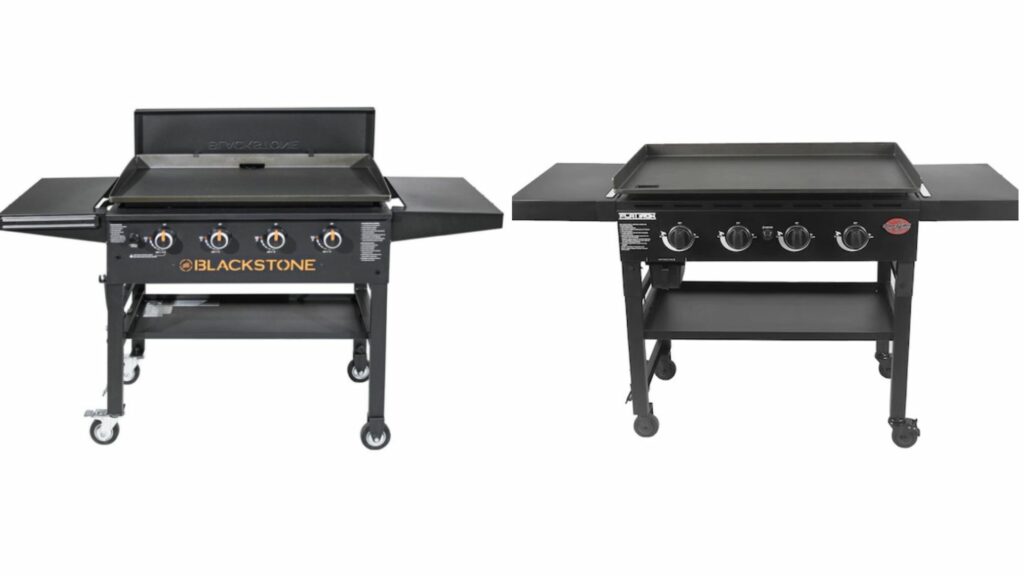 Blackstone's griddle has a design almost similar to Char-Griller. It has a steel surface with a powder coating that gives it an industrial aesthetic. It is also larger compared to Char-Griller. It has a smaller cooking area and the additional inches are added to the side tables.
Even when you look at these two, you will realize that they are alike. Char-Griller is very focused on producing a durable griddle. The 36-inch flat iron, for instance, features a big stainless steel burner that is coupled with heavy-duty construction to ensure it remains durable.
Additionally, it features some well-built burner knobs, coupled with temperature settings. What's more, the left part of the panel features some instructions to make it easier for you.
In regards to mobility, they are fitted with caster wheels that make it easy for you to move them around. There are stability locks on two of the wheels so it does not mess up what you are cooking.
The difference between the two is that Blackstone has added handles on the side of the cooktop so you can pull it with ease.
What about storage? Well, they both have adequate storage slots for your tray and the LP gas tanks.

Accessories and Features
In this aspect, Blackstone is superior since it offers more accessories and add-on features compared to Char-Griller.
If you have used a griddle before, you know just how hectic cleaning can be. We are lucky that our chosen brands have grease trays that make things easier for us. The tray on a Blackstone is at the back, which is harder to access compared to the one on Char-Griller – placed at the front.
Now, both of the brands have some griddle accessories. You can purchase, for instance, an accessory kit from Blackstone that features a collapsible baster or the griddle starter kit from Char-Griller.
Blackstone has two models of their 36-inch griddle. There is one with the regular tables on the side, but there is another model that features a removable cutting table coupled with a holder for paper towels.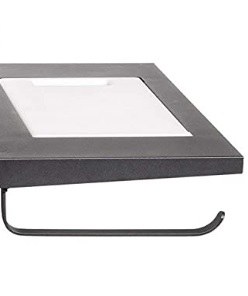 Cooking Area and Cooking Power
As you can see on the table we provided before, these two are neck to neck when it comes to cooking power. However, Char-Griller happens to have a larger cooking area.
Both griddles use tube burners made of stainless steel. These are the ones that heat the griddles. There are four on each of the griddles and each can create a good unique cooking zone.
You will get to enjoy 60,000 BTUs on both griddles. What's more, starting them is very easy. You will get ignition buttons to make things easy for you.
Now, when it comes to the cooking area, Char-Griller features 775 inches squared.
Blackstone, on the other hand, features 720 square inches. Even though Char-Griller has a larger surface for cooking, we can see that Blackstone is not left too far behind, which is a huge advantage.
<<< Check Blackstone Griddle on Amazon >>>
<<< Check Char-Griller on Amazon >>>
How to Choose a Griddle
We know that a griddle is a very versatile piece of equipment. But when you go shopping for one, you will realize that the options are endless. Therefore, making a choice can be a bit of a challenge. So, what is it you should look for when purchasing a grill?
Size
First, you should know that the bigger, the better. When you have a larger one, you will get more space for cooking your food. You probably need a griddle so that you can have family and friends over for a day out. A larger cooking surface means that you will cook more food for those around you.
Drainage Holes

The drainage holes are also important to consider. The best griddles should have adequate holes to collect more grease. That way, your food will not only be healthier but also crispier and not greasy.
Surface Material
You also have to think about the surface material. A non-stick material is better. It should also be made with a safe and durable material so that it does not rust or break.
Fuel Source and Number of Burners
Which type of fuel will you be using? To be honest, there is a wide range of griddles including gas and electric ones. The best one for you depends on what you prefer. Our choice of griddles is fueled by gas.
How many burners will you have in your griddle? Well, we would recommend that you choose more burners. You will have a better heat distribution, as well as consistency in temperature levels.
Now, when you consider all these factors, you should be able to get the best griddle for your home.
Other comparisons:
FAQS
Can I leave my Blackstone griddle outside?
Yes, Blackstone griddles are made with durable materials that can withstand the elements, so feel free to leave your griddle out on the patio or deck. Just be sure to cover it when not in use to protect it from the elements.
If you live in an area with extreme weather conditions, you may want to consider storing your griddle inside when not in use. However, if you take proper care of your griddle, it will last for many years to come, no matter where you keep it.
How hot does the Char Griller flat iron get?
A Char Griller flat iron grill can reach up to 650 degrees Fahrenheit, making it hot enough to perfectly sear your steak and lock in all of the juicy flavors. Plus, the flat surface of the grill means that your steak will cook evenly on both sides, ensuring that perfect sear that we all crave.
Is the Blackstone griddle pre-seasoned?
Yes, the Blackstone griddle is pre-seasoned. But there's a little more to it than that. Here's what you need to know about the pre-seasoning process and why it's important for your griddle.
When you first get your Blackstone griddle, it will come with a protective coating that helps to prevent rust and corrosion. This coating is important because it will help to keep your griddle looking new for years to come. But in order for this coating to work properly, you need to season your griddle before you use it.
Can you cook anything on a Blackstone griddle?
No matter what you're in the mood for, you can cook it on a Blackstone griddle. Whether you're craving pancakes for breakfast, grilled cheese for lunch, or burgers for dinner, a Blackstone griddle can do it all. And because each griddle comes with multiple heat zones, you can cook multiple items at once without any worries.
Read: Predator 9000 Vs 8750: Which One's BEST?
Verdict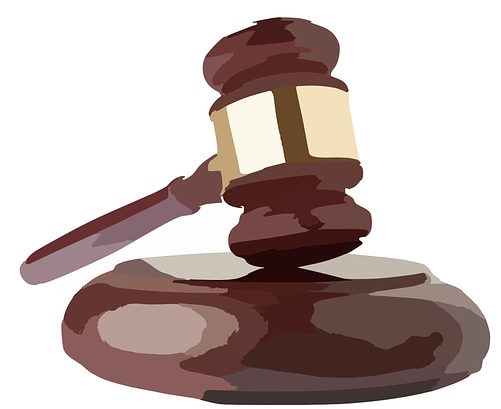 One thing we have realized in our Char-Griller Flat Iron vs. Blackstone comparison is that they are both amazing choices to consider. Regardless, we found that you will easily find a 36-inch Blackstone griddle at an affordable price.
Choosing between the two can be a bit problematic since they are both designed and built well. They are sturdy and have excellent heating capabilities. They are a great addition to any backyard.
We have found that Blackstone has more accessories since its main focus is griddles. When it comes to the price, there is not much difference, but you will find Blackstone's griddles faster and easier.